1
« on: December 27, 2015, 05:40:10 PM »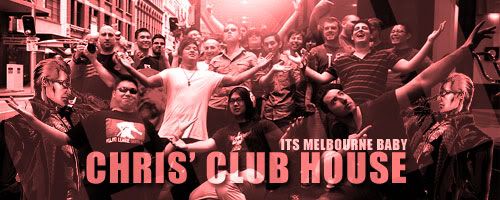 Hi guys, it's a brand new year and we're starting a fresh round of CCHs. Apologies for the late notice of 2016 dates, the library has been more troublesome to deal with this year because of a booking system change. We have a few dates in Richmond library this year because of that, but hopefully you guys are used to that alternate venue by now.
We also have a slight schedule change - all CCHs will start at 3PM from now on. This is because I've noticed even if we start at 1PM, we don't get in that many people early in the day except for classic thirsters like Kris and a few of the youngsters, and I'm also getting old- I tire out quite quickly once it starts getting to 1 or 2AM. If we start at 3PM we can have a leisurely lunch before we go to CCH
so I've decided to make it a permanent change. Also, please scroll to the bottom for details on Carnage's Stay Sharp: The Lost Warriors tournament held at CCH on the 23rd of January.
Hope you guys had a great Christmas, and hope to see you guys at CCH!
(I will also update with the year end financial report for CCH once I'm back in Aus.)
When:
Saturday 02 January 3:00 pm start till late.
Where:
11 Stanton St, Abbotsford.
View Larger Map
Fee: $4 venue fee- Anybody that brings either a monitor/console gets in for free.
BYO: Screens, Xbox's, PS3′s, Sticks are all appreciated, even if they go unused. The more the merrier. It would be awesome if you guys could leave a comment in this thread if you're bringing a setup.
For new guys to CCH:
Sample of the action thanks to Burnout:
Brand new behind the scenes action courtesy of Burnout!
CCH 2016 Schedule:
Jan 02, 23 (Carnage's Stay Sharp tournament
https://www.facebook.com/events/919936441416011/
), 30
Feb 20, 27
Mar 12, 26
April 09, 23
May 7 (Richmond Library), 21
June 04 (Richmond Library), 18 (Richmond Library)
Setup Count (If you're bringing a setup please post below):
Muttons: 2x (Xbox+Monitor, AE, Marvel), 1 stick
Special USFIV tournament at CCH on the 23rd of January-
Stay Sharp: The Lost Warriors
run by Carnage
Facebook event:
https://www.facebook.com/events/919936441416011/
Hey guys,
With Capcom Cup just finishing we have a few month wait till SFV is out and our next major in Melbourne and I know many of you are still hungry for some competition and improvement. I feel a tournament during the summer break is what we need to 'Stay Sharp'.
This will also be our final SF4 tournament before SFV comes out so many of us will be at a skill level where it would put on a good show to see who is the strongest.
This tournament will be run differently to what everyone is used to.
Details are as follows:
Venue: CCH aka Collingwood Library
Date: Saturday Jan 23rd (Australia Day long weekend)
Depending on entrants and number of interstaters, a Friday night casuals and top 16 moved to Sunday is a possibility.
Time: Midday - Midnight
Venue Entry:
Competitors: Free
Spectators: $5 (which will go straight into the pot).
Tournament Entry: $30
Pot Bonus!! : $5 for every entrant by XSplit (Big thanks to Burnout)
Round Robin Pools of 4.
Games are FT3.
Top 2 will advance to next pool based on games and rounds won (if still 2 players fight for the second spot to qualify then the winner between those two's match will go through).
Grand Final match will be FT5.
Player Cap: 64 (this format only allows for 4,8,16,32,64 etc. players to run ideally)
Prize pool based on 64 people : $2240
Distribution: 60% / 30% /10% / $60 / $30 / $30 / $15 / $15
This new approach will be more of a test of your overall performance against 3 people per round rather than just one person. the FT3 format will also remove concerns of the winner getting 'lucky'.
Upon advancement, the top 2 players from each pool will be reallocated using the 'pool shuffle' method I created (post detailing this to come but the summary is, top placer of each pool gets reseeded and a fresh batch of pools get made using a formula). This minimizes the chance of two people playing each other more than once before top 4.
This format ensures you get a minimum of 3 FT3 games.
There is no loser's bracket so make every game count!
Seeding will be based on tournament performance history in the life of SF4 and also interstaters will be spread out.
There is also an underlying theme to this tournament ('The Lost Warriors'). Keep an eye out as I'll be announcing some players you haven't seen in a while. This will be a good chance for the new players to meet some of the old players that were very active in the scene early on.
To all the interstaters: it would be great if any of you could make it down. Majority of us have travelled at least once to another state's tournament and each person's attendance makes a difference and is highly appreciated.
There are some interstate matches that we haven't seen yet, or haven't seen in a long time. eg Toxy vs Falco, HeavyWeapons v Shang, Phero vs Niah etc.
I think such an interstate presence will put on a really good show.
Please get your entry fee to me by midnight Sunday 17th Jan (online transfer or in person). Use your full name or first initial and last name as the payment details then message me on facebook that you have paid and I will update my spreadsheet.
This is a strict cut off with no exceptions as brackets will be finalized and out that Monday. We live in an age where 5 minutes is all you need to do an internet transfer.
Get in quick before all the spots fill up!
Stay tuned ... More Secrets Later
-H aka Carnage